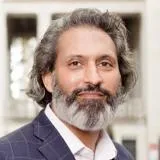 Mumtaz Ayub
EAP Tutor
Contact details
Biography
Mumtaz has studied science (Human Nutrition MSc), social science (Politics MSc) and applied linguistics (MA TESOL) and also holds the Cambridge Diploma in English Language Teaching to Adults, the Certificate in Further Education Teaching Stage 3 and the Certificate for ESOL Subject Specialists.
Before moving into EAP (English for Academic Purposes), he spent a number of years teaching ESOL (English for Speakers of Other Languages) at further education colleges in London and has also taught at King Fahd University of Petroleum and Minerals in Saudi Arabia as well as on pre-sessional courses at Brunel University and Imperial College London.
In addition to teaching EAP on a range of programmes, Mumtaz is lead tutor for the King's Science & Society module, which aims to foster critical thinking and language development through looking at the social impacts of science and technology.
In his spare time he enjoys gardening, exercising and having fun times with his family.