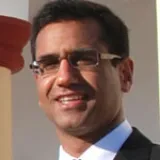 Dr Nabeel Sheikh
Honorary Senior Clinical Lecturer
Contact details
Biography
Dr Nabeel Sheikh was appointed consultant cardiologist and honorary senior clinical lecturer in inherited cardiac conditions and imaging at Guy's and St Thomas' NHS Foundation Trust, King's College Hospital and King's College London in 2017.
He has specialist interests in heart muscle diseases and athlete's heart and has given presentations of his research at the scientific sessions of the American College of Cardiology, the European Society of Cardiology and the American Heart Association.
Nabeel trained at University College London where he qualified with a BSc with 1st class honours in neuroscience alongside his medical degree in 2002. He undertook his junior doctor training in London and Nottingham, gaining membership of the Royal College of Physicians in 2006. Nabeel completed a PhD into the effects of ethnicity on the expression of cardiomyopathies and athlete's heart at St George's Hospital and University of London and was awarded a British Heart Foundation Project Grant. Alongside his PhD studies, he also worked as a member of the Centre for Inherited Cardiac Diseases and Sports Cardiology at St George's Hospital and the Cardiac Risk in the Young screening programme for professional athletes. It was during this time that he gained specialist expertise in the screening athletes, the evaluation of athletes with cardiac disorders, evaluation of individuals with inherited cardiac conditions, and the genetics of inherited cardiac conditions.
Nabeel completed his training in cardiology in 2016 at St Thomas' Hospital, gaining expertise in cardiac MRI and further training in inherited cardiac conditions and clinical genetics. 
Nabeel has been invited to speak at major national and international conferences, including the European Society of Cardiology. He has published work relating to sudden death in young athletes in scientific journals, including work in Circulation  which has directly led to the refinement of screening criteria for athletes and informed the new International ECG screening recommendations published earlier in 2017. He has recently been made a Fellow of the European Society of Cardiology (FESC).
Nabeel is a member of the Association for Inherited Cardiac Conditions and is British Society of Echocardiography accredited for transthoracic and transoesophageal echocardiography. He is an active member of the BSE's Research and Audit Committee, through which he has contributed to several National guidelines relating to echocardiographic evaluation of athletes undergoing screening.
Nabeel also teaches on the the 'Preventative Medicine and Exercise Prescription' and 'Sport, Exercise, Health and Medicine II' modules of the Sport & Exercise Medical Sciences degree.