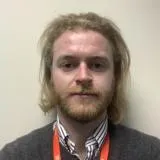 Dr Naoise Mulcrone
Clinical Research Fellow
Research interests
Neuroscience
Pharmacology
Imaging sciences
Contact details
Biography
Naoise Mulcrone is a Clinical Researcher working in the Department of Forensic and Neurodevelopmental Sciences department, in the IoPPN.
Naoise joined King's in 2022, after completing four years of Psychiatry Basic Specialist Training in Ireland, working in general adult psychiatry, forensic psychiatry, social and rehabilitation psychiatry, psychiatry of later life, psychiatry for the homeless, and liaison psychiatry.
Research Interests
Autism and neurodevelopmental disorders
Neuroimaging and functional network connectivity
Research Groups & Projects
Shiftability group
PSILAUT study
GW19189 – clinical trial
ZYN2-CL-033 – clinical trial
Expertise and Public Engagement
Naoise has been involved in teaching/examining with the Clinical Neurodevelopmental Sciences MSc.  
He has also presented at the monthly ESTIA centre meeting, a specialist training, research and development resource for people who support adults with a learning disability, autism and additional mental health needs.