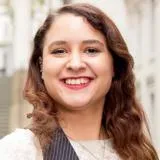 Natasha Ingall
EAP Tutor
Contact details
Biography
Having originally studied music at the Cardiff University, Natasha has an undergraduate degree in Music and a PGCE in Primary Music Education. More recently, she has recently completed an MA in Applied Linguistics with the Open University. She holds a Diploma in TESOL awarded by the Trinity College London.
She has previously worked on Pre-sessional and EAP courses at Warwick University, Falmouth University and University of Exeter in Cornwall. After working with Pre-Masters students and co-ordinating Study Skills for Foundation Students at a F.E. College in Devon, Natasha moved to Chengdu, China, where - as well as working as an EAP teacher at an International Boarding School - she explored the local culture and was a frequent visitor to the panda reserve. At KCL she teaches on the Pre-sessional and Foundation programmes.
In her free time, Natasha enjoys singing in choirs, acting, costuming, and befriending every animal she meets. Current research interests include self-efficacy and the affective side of learning, classroom communication, culture and identity, and how technology can be used to aid the learning process. She is planning on focusing on one of these for her future doctorate studies.