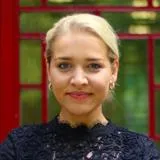 Natasha Lock
PhD student
Contact details
Biography
Natasha is a  PhD student at the Lau China Institute. Her work examines the manipulation of narratives (victimhood, enmity, humiliation) and emotions (anger, fear, envy) by authoritarian regimes.
She holds a degree in History, International Relations and Mandarin Chinese from the University of Exeter and was a Yenching Scholar at Peking University where she was awarded graduate of the year. She spent 5+ years living, working and studying in China.
Research
Thesis title: 'Strategic Enemization Theory: Understanding the Placement of Enemy in International Relations'
Natasha's research focuses on the notion of 'enemy' in International Relations. She analyses the ways in which it is strategically employed for political purposes, examining its usage, locations, and underlying motivations.
Are domestic enemies inscribed in China's political terrain? How has China's leadership worked to upkeep the narrative of enmity?
To address these questions, Natasha's thesis develops a new concept and paradigm (Strategic Enemization Theory, SET) — arguing that those with authority deliberately evoke and upkeep a vertically driven discourse of 'enemy' (peoples, groups and ideas) as a politically expedient tool. Her research will demonstrate that the narrow vector of enemized groupings can serve as a recyclable narrative to anger, deflect, unite, and bolster a visceral domestic landscape.
Specifically, Natasha's research delves into the enemization of corruption under Xi Jinping's leadership, utilizing a comparative case study approach to see where this differs from Jiang Zemin's enemization of Falun Gong and Mao Zedong's enemization of the "Nine Black Categories" during the Cultural Revolution.
PhD supervision
Further details