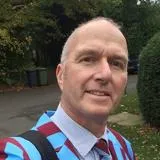 Nick Hawkins
PhD Candidate
Contact details
Biography
Nick Hawkins is a part-time M.Phil/PhD Candidate in the Defence Studies Department. He retired from the Ambulance Service in 2018, having worked for both the London Ambulance Service from 2002-2018, and The South Western Ambulance Service from 2005-2018, as an Advanced Technician on frontline ambulances and response cars. He still works in the NHS as a Physiotherapy Technical Instructor on the Neurological Ward at the Royal Cornwall Hospital. In 2013, he received his MA in British Second World War Studies from the University of Birmingham. He is a member of the Society for Army Historical Research, the Occupation Studies Research Network, and the Royal Historical Society (ECR).
Research Interests
The Second World War
Operational refugee management
The British Army
Military Effectiveness
The British Empire and Colonial Policing
Change-management, unit-cohesion and status anxiety
The Yeomanry
Mechanization of the mounted arm
The current research aims to use the four levels of military activity theory: politics, strategy, operations and tactics, as a framework by which to apply a military history approach to refugee studies, specifically in the context of British Army operations and innovation during the Second World War.
Previous work has looked at the issues surrounding the mechanization, or conversion, of the remaining mounted Yeomanry regiments of 1st Cavalry Division, in the Middle East during 1940-42. 
Thesis title and abstract
The British Army and the Refugee Problem during the Second World War
Management of the refugee problem represented a vital operational priority for the British Army throughout the Second World War, a situation that was fully exposed at the outset where in 1940, an enormous refugee crisis in France further threatened systems of C3i that were already severely destabilised by Blitzkrieg. Here, strategic military decision-making was impeded as logistics were stymied where refugees blocked lines of communication and absorbed resources.
The aim is to provide an investigative approach that considers the significance of the refugee problem for the British Army. Essential research themes will examine: the impact of the refugee problem on the British Army's operational art; the influence of colonial policing and previous conflicts, such as the Second South African War and the Great War, on refugee management during the 1940s; British Army doctrine concerning refugees in the lead up to the Second World War; containment and employment of refugees in theatre, for the purpose of augmenting military effectiveness; the British Army's contribution to the Allies' overall refugee planning for the invasion of Northwest Europe; and the Army's involvement with Displaced Persons across liberated states, including repatriation of British Empire citizens, while at the same time attempting to preserve imperial interests.
Supervisors
Professor Ashley Jackson
Dr Jonathan Fennell
Publications
Hawkins, N. 'Mechanization or Conversion: The Yeomanry of 1st Cavalry Division in the Middle East, 1940-42', Journal of the Society for Army Historical Research, Volume 97, Number 391 (Winter 2019), pp. 355-371. (Available on JSTOR from January 2022)