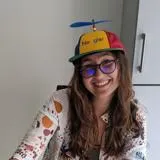 Nicole Fleischer
Google, Dublin
Biography
Nicole Fleischer is a 3rd year International Management BSc student who spent her placement working in Google's EMEA Headquarter Offices in Dublin, as part of the Google Customer Solutions Spain and Portugal division.
In March 2020, I became a Noogler (New + Googler) and completed a three-month business placement at Google in the EMEA Headquarters Office in Dublin, Ireland. I was part of the Google Customers Solutions Spain and Portugal team. A large part of my role as a business intern was to be a consultative seller, collaborating with Spanish small-medium sized businesses.
An Inspiring Culture and Workforce
My first three days of the placement were in the office, which transitioned into a work from home format for the rest of my placement as a result of Covid-19. Nevertheless, in those three days I had the opportunity to experience the reputed Google office and meet the team. Such a smooth and effective transition to virtual working wouldn't have been possible without Google's supportive and forward-thinking culture. From day one, I was impressed and inspired by the way Googlers in the team offered to teach, give advice and share experiences with me throughout my placement. This not only made me feel welcome and part of the Google team, but it also helped me learn tremendously quickly.
Application Process
The summer prior to my placement, I was accepted on the Google BOLD Immersion Program. I applied to this summer insight week through SEO London, an organisation which links students with career opportunities. During the program, I attended workshops and was mentored in preparation for two interviews for a business placement position at Google. This preparation alone contributed so much to my learning about Google, consultative selling and the technology industry. I would highly recommend anyone interested in the tech industry and/or sales to consider applying to Google's BOLD and/or placement programs.
Value of a Placement Experience
One of the reasons I chose to study the Bsc in International Management at King's College London was because of the opportunity to go abroad during the third year of study. The chance to experience a work placement while you're still studying is a golden ticket in terms of exploring your career interests and future options.
A work placement not only enriches your knowledge of different industries, working styles and positions; but it also contributes to your personal growth and understanding. What we learn at university creates a foundation of knowledge for the rest of our careers. But putting yourself in a new and challenging environment teaches you things you can't learn in a classroom. As It's through work experiences that you learn how you best communicate and collaborate with others.
But the real magic happens when you combine what you learnt at university with a work placement. Combining the two has led to the most valuable and unforgettable learning experiences. For this reason, I'm extremely grateful to have had this work placement experience so early in my career.
My experience at Google has been an invaluable opportunity, and a major highlight of my time at King's Business School. If I boil down such an incredible experience to only three words, I'd say: accountability, insightful and energising.