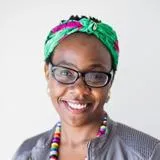 Dr Nompilo Ndlovu
Research Aide to Hon Thoko Didiza
Biography
Dr Nompilo Ndlovu is an alumnus of the Africa Leadership Centre and a Research Aide on the Practice of Leadership programme, supporting Leading Practitioner Hon Thoko Didiza.
She is currently fulfilling a Postdoctoral Fellowship with the A.W. Mellon funded History Access programme at the University of Cape Town, South Africa. She is also an adjunct lecturer at the University.
Prior to this, she studied and worked within the disciplines of Gender and Development amongst communities within South Africa. She completed the Peace and Security Fellowship for African Women with the ALC, in the 2011/12 cohort, as well as a Women's Funding Network Bridge Builder (2010/2011).
Nompilo obtained her PhD in Historical Studies from the University of Cape Town (UCT) in 2019.