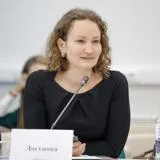 Dr Olga Logunova
Research Associate
Contact details
Biography
Olga Logunova is a dedicated researcher with a focus on the intriguing intersection of media and sociology. Olga has delved deep into the world of media and its profound influence on social dynamics. Her dedication to understanding digital landscapes and social media listening methodology positions her at the forefront of this evolving field.
Currently, Olga's primary research project, titled "The Historical Figures: Memes or Narratives in Social Media 2021-2023," seeks to unravel the complex relationship between historical figures and the narratives they spawn in the digital age.
Throughout her career, Olga has amassed a wealth of practical experience through a diverse range of qualitative and quantitative research projects. Notably, she explored the potential of micro-influencers in the context of socio-political processes on emerging digital platforms.  Olga's contributions extend beyond her own research as she has taken on the role of supervising international projects. Her involvement in "The Journalistic Role Performance Project (JRP)" from 2013 to 2018, initiated by Claudia Mellado and Wolfgang Donsbach, sought to define the state of journalistic roles in media across the globe.
The project's ongoing Second Wave (2019-2023) is dedicated to scrutinizing the presence of journalistic roles across various media channels, including television, radio, print, and online platforms.In her distinctive exploration of socio-cultural barriers, Olga probed the world of Tinder and its impact on self-presentation.
Beyond her research activities, Olga has actively contributed to academia. Olga has also served as a visiting lecturer in Tampere University (Finland) for "Health and Media" course at School of Communication, Media and Theatre, 2018, 2020, 2021. She was an assistant professor at HSE in Moscow since 2012.
Office hours
Monday: 12.00 - 14.00
Thursday: 15.00 - 16.00
Please contact Dr Logunova directly via email for individual appointment time.
Research interests
Social media analytics
Social media listening
Digital celebrities, influencers
Digital memory
Digital literacy
Digital journalism
Teaching
7YYRN017 Russia and the European Union (23~24 SEM1 000001)
Latest publications
Pasti, S., Logunova, O., Davydov, S. G. (2022) Journalistic Role Performance in the Russian Press: A Post-Soviet Model for the Third Decade, 2012-2022 // Demokratizatsiya: The Journal of Post-Soviet Democratization. Vol. 30. No. 2. P. 211-238. https://muse.jhu.edu/issue/47743
Logunova, O., Zavgorodniaia, P. (2022) Constructing the Image of Microcelebrity on Instagram*: Analyzing User Experience. Interaction. Interview. Interpretation. Vol. 14. No. 1. P. 106-122. DOI: https://doi.org/10.19181/inter.2022.14.1.5
Logunova, O., Lebedev, P. (2021) Digital Celebrities: Transformation of Theoretical Approaches // Monitoring of Public Opinion: Economic and Social Changes Journal (Public Opinion Monitoring) ISSN 2219-5467: No. 5 DOI: https://doi.org/10.14515/monitoring.2021.5.1992
Logunova, O. (2019). Identifying and Measuring the Internet Audience. ZHURNAL SOTSIOLOGII I SOTSIALNOY ANTROPOLOGII (The Journal of Sociology and Social Anthropology), 22(2), 230-246. Retrieved from http://jourssa.ru/jourssa/article/view/296
Solovyeva, O., Logunova, O. (2018). Self-presentation Strategies Among Tinder Users: Gender Differences in Russia. In: Alexandrov, D., Boukhanovsky, A., Chugunov, A., Kabanov, Y., Koltsova, O. (eds) Digital Transformation and Global Society. DTGS 2018. Communications in Computer and Information Science, vol 858. Springer, Cham. https://doi.org/10.1007/978-3-030-02843-5_39
Logunova, O. (2017) Data vs. big data: metodic experiments and research ethics in project 'Index of Digital Literacy' // Russian Journal of Communication, 9:3, 303-304, DOI: 10.1080/19409419.2017.1376567 https://www.tandfonline.com/action/showCitFormats?doi=10.1080%2F19409419.2017.1376567
Davydov, S., Logunova, O. (2016). The Representation of the Federal Elections of 2011 and 2012 in Russia by the Major National Television Channels. Communications. Media. Design, 1(1). Retrieved from https://cmd-journal.hse.ru/article/view/3230