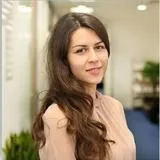 Olga Mozaiska
VP, Head of Digital Marketing, Lazada (Alibaba Group)
Accounting, Accountability and Financial Management MSc, 2012
Biography
Describe your career journey from being a student at King's to being in your current role
After graduating from King's with an MSc in Accounting, Accountability and Financial Management, I started my career in Strategy Consulting at KPMG & Deloitte. While working there, I was involved in projects across multiple industries, including FMCG, media, manufacturing and government services. Following this, I then moved to one of the fastest growing online travel start-ups (launched by Silicon Valley entrepreneurs) as a Business Optimization Manager, where I was subsequently promoted to Operations Director.
In this role, I led four departments and a 60+ person team, with responsibility for setting their day to day operational activities, as well as managing high-scale service optimization projects. I then moved to Lazada – the top e-commerce platform in South East Asia, which is owned by Alibaba, taking on the FMCG Director role with a brief to grow the category cluster in Singapore from scratch. About 2 years ago I transferred to head up the digital marketing team for Lazada Singapore and RedMart (an online groceries platform that Lazada had acquired), where I managed all paid media including search engine marketing and optimisation, affiliate marketing, social media, display and CPC (cost-per-click) advertising.
What's the one thing you enjoy most about your current role?
The main thing I love about my job, is the way it challenges me to do better every single day! My team and I constantly put our heads together to solve different issues and come up with novel ideas on how to communicate the best offers, acquire new users and build loyalty with existing customers. Above all, I love managing people and enjoy working with my team.
What have been your biggest achievements in business and your career so far?
A couple spring to mind. Firstly, as Head of Digital Marketing in Lazada, I led the team to successfully grow the number of daily active users and new buyers by more than 2x YOY, primarily by optimizing the mix of marketing channels we used, creating successful new campaigns, working closely with other functions across the business, and improving cost efficiency on channel level. Secondly, as FMCG Category Director in Lazada I grew the FMCG category from scratch and pushed it to become largest category by volume. As operations director, I also managed service optimisation projects, which led to about a 30% improvement in our key service metrics. I also led aggressive cost-cutting efforts during cash shortfall periods, managing to reduce the amount we were spending by around 50%.
How did your time at King's help with your career journey?
My academic background in financial management and accounting has, throughout my career, helped me to adapt and sustain a numbers-driven and performance-focused approach.
What is the best piece of advice you have for current King's Business School students on achieving success in their careers?
My main advice would be to:
Recognize the importance of relationship and network building in business. It's never too early to start building your network of contacts, even if you're still studying. Also be kind to other people. People are the most important asset you can gain throughout your studies and career.
Be open and take the opportunity to learn new things whenever possible: every skill is beneficial.
Identify your long-term goals based on your passions and interests and stick to them. Do not get distracted. Greater focus brings better results.