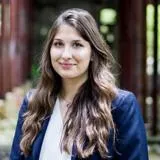 Or Goldenberg
H4MoD Student
MA Intelligence and International Security
Contact details
Biography
The H4MoD module has been a roller coaster ride of continuous trial and error. Altogether, having to balance the high pace and expectations, a completely new methodology and jargon, an interesting but complex problem, teamwork challenges, and working online has been very demanding and can be very frustrating. The more invested you get in the module, the more frustrating it gets, and I think H4MoD was developed to exactly do that. My team and I were assigned to unpack the overwhelmingly broad problem of integrating autonomous vehicles onto Royal Air Force military airfields and dive into this without any prior knowledge or expertise. Branching out, identifying the root causes of the problem, but subsequently having to narrow down and refocus has been - and still is - difficult. There is no single answer, an easy fix, or a way to move forward without constantly failing. While this is difficult, it does stimulate to branch out, think creatively, refine, revise, and continuously move forward – although it does not always feel this way.
The most exciting about this module is the opportunity to learn and engage with a broad range of experts in the field and beyond, and to integrate their knowledge to develop a potential solution. It is truly amazing that as part of my master's degree, I can get into practice and enhance the necessary tools and skills for life after academia. This is attained by getting the opportunity to digest an existing problem, which hampers the RAF daily. The module is very dynamic and the constant availability of the problem sponsor, module conveyors, as well as a corporate mentor, to continuously interact with us in a non-hierarchical manner provides us with a completely different and motivating working environment.
At the beginning of this course, it was daunting to interview experts without understanding and grasping the challenge myself. Therefore, an important breakthrough for me was when interacting with interviewees became very pleasant, interesting, dynamic, and relaxed. Besides, learning a new and practically applicable methodology is an important takeaway from this module. Lastly, the high pace and demanding working environment, learning how to balance different stakeholders - and the demands of the module more generally - have been valuable learning experiences.
The H4MoD module is very analytical and critical, and the in-class discussions of other modules already prepared me to be agile, creative, and proactive. While my other modules and the given problem do not overlap content-wise, critical thinking and a demanding environment have been a red thread throughout my time at King's College London.