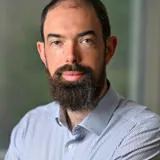 Oscar Ayrton
Senior Instrument Technician (Mass Spectrometry)
Contact details
Biography
Oscar is a Senior Instrument Technician (Mass Spectrometry) in the Department of Chemistry's facility. He manages the Mass Spectrometry and HPLC instruments in the department. During his time at King's College he has consolidated the HRMS service and is working on bringing new mass spectrometry technology to the college.
He is an expert in mass spectrometry with experience in both LC-MS and GC-MS across roles at LGC, Imperial College with Professor George Hanna and the Francis Crick Institute with Lucia Prieto Godino.
Oscar obtained an MSc in Natural Sciences, specialising in Chemistry from the University of Cambridge in 2011 followed by an MSc in Forensic Sciences from King's College London in 2013.