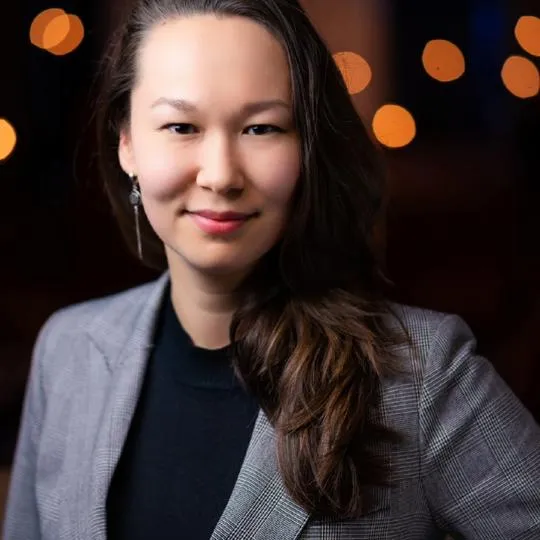 Oyuna Baldakova
Research Associate
Lead Kazakhstan Researcher at the ERC-funded DIGISILK project
Contact details
Biography
Oyuna Baldakova is a Lead Researcher for Kazakhstan at the ERC-funded DIGISILK project at the Digital Humanities Department. Her research centers on the implementation of China's Belt and Road Initiative and the Digital Silk Road in Kazakhstan and Kyrgyzstan, examining how the complex economic, political, and social realities of these countries shape the realization of various infrastructure and industrial projects, as well the role of Chinese firms in the countries.
In her recent fieldwork in Kazakhstan in 2022, Oyuna conducted a series of interviews with a wide array of stakeholders, ranging from experts and policymakers to IT specialists and civil society representatives. These interactions have provided her with insights into the intricate interplay between Kazakhstan's own digitalization programs and the nuanced dynamics among Chinese, Western, Russian, and local companies in the rapidly evolving Kazakhstani tech scene.
With a Master's degree in Modern East Asian Studies from the Goethe University Frankfurt, Oyuna has extensive experience in international development, including internships at UNESCO Bangkok and managing an EU-funded project for Central Asia. She has also worked in communications at the International Organization of Folk Art (IOV). She's currently finishing her PhD at the Department of International Relations and Institute of China Studies of the Free University of Berlin.
Research Interests and PhD supervision
Chinese foreign policy
Post-Soviet economies
Development policy and finance
Infrastructure and industrial upgrading
China's globalising internet
Selected Publications
Policy and public scholarship:
Baldakova, O. "Kazakhstan's Three-way Balancing Act between Competing Powers is under Pressure." MERICS Report "Beyond blocs: global views on China and US-China relations." 18 Aug. 2022. Retrieved from https://merics.org/en/kazakhstans-three-way-balancing-act-between-competing-powers-under-pressure.
Baldakova, O., et al. "Central Asia Forecasting 2021: Results from an Expert Survey." Friedrich Ebert Foundation, OSCE Academy in Bishkek, SPCE Hub. 03 Nov. 2021. Retrieved from https://centralasia-forecasting.net/.
Baldakova, O. "Kazakhstan profile." The People's Map of Global China. 24 May 2021. Retrieved from https://thepeoplesmap.net/country/kazakhstan/
Baldakova, O., and D. Roland-Holst. "Global Decarbonization after Covid-19: Strategic Options for Kazakhstan." Energy Transition Blog. 29 Oct. 2020. Retrieved from https://energytransition.org/2020/10/global-decarbonization-after-covid-19-strategic-options-for-kazakhstan/.
Baldakova, O. "China's Central Asian Connection." MERICS Blog. 06 Feb. 2020. Retrieved from https://www.merics.org/en/analysis/chinas-central-asian-connection.
Expertise and public engagement
International development
Professional, project management