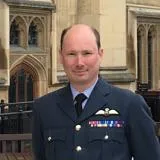 Paul Cole
PhD Student
Contact details
Biography
Paul Cole is a part-time postgraduate researcher in the Defence Studies Department. He juggles this with a full time career in the Royal Air Force, growing and cooking his own food, cycling and conducting conflict resolution work between his two children. Academically he holds an MA in Defence Studies from King's College London (thesis exploring the utility of airpower in hybrid warfare) and an MA in Coaching and Mentoring from Oxford Brookes University (thesis focused upon the socialisation of newly elected MPs).
In his day job, Paul is currently charged with developing the UK's military flying training system. He has extensive operational experience, having served on every continent. Equally at home in Whitehall, he has experience in strategic communications and was the Chief of the Air Staff's Parliamentary Liaison Officer for the period from the Scottish Referendum to shortly after the EU Referendum. He is a graduate of the UK MoD's Advanced Command and Staff College and is now undertaking the MoD's Strategic Business Programme, designed for those to be employed in the strategic management of defence. He was appointed OBE for services to Defence in 2016.
Research Interests
Sub-threshold warfare
Civil Military Relations
UK Politics
Military, Society and Culture
Grey Zone Warfare
Thesis
Back to the Future? The UK Civil-Military Relations challenge of democratic oversight in 21st century sub-threshold warfare.
Supervisor