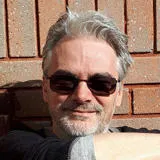 Dr Paul Le Long
Associate Director: Departmental Operations
Contact details
Biography
Paul is the Associate Director: Departmental Operations for the Faculty of Natural, Mathematical & Engineering Sciences, King's College London
Responsibilities
Paul is the lead professional services representative for the departments and institutes within NMES at faculty level and advocates in relevant fora for those units
Paul collaborates with the senior professional services leads for each function and departments, to support each other in the delivery of services through joint-planning, issue resolution and continuity management
Paul covers for Department & Institute Managers when they are away
He leads on establishing, developing and delivering an excellent staff experience, including training and development, EDI and change management
He leads on establishing and strengthening a culture of shared working, cross-unit integration, mutual support, and engagement across NMES bringing together people from all departments, functions and grades in order to optimise systems, harmonise processes and maximise job-satisfaction and well-being across the board
Biography
"I was born in Jersey and moved to the UK in 1979. I come from a working class background and feel incredibly fortunate to have made it to university as a mature student in my mid-twenties. I have a BA in Medieval & Modern History from Queen Mary, University of London, an MA in War Studies from King's and a PhD, again from QMUL. My PhD thesis was entitled Committed Detachment: Britain and the War in Indochina 1968-72.
From there I moved into university administration working first at QMUL in the Registry and then as Exams Officer before moving to KCL in 2007 as Department Manager for Physics. I enjoyed my time in Physics immensely which is why I stayed in that role for over 15 years! The time just flew by. I've now moved on to the role of Associate Director: Department Operations because I wanted to branch out a bit and work with a wider set of departments and people.
In my spare time I'm addicted to wargames, boardgames and Dungeons and Dragons like a total nerd."