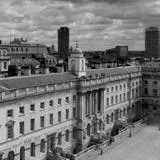 Professor Paul Matthews
Honorary Professor
Contact details
Biography
Education: LLB 1977 London; BCL 1979 Oxon; LLD 1996 London. Qualifications: Barrister (GI) 1981; Solicitor 1987 (Ireland 1997); Solicitor Advocate 2001 (Higher Courts Civil). Other: FRSA; FRSM. Prizes: Charlotte Ashby, Andrews, Prizes UCL; CLE Prize; Mackaskie Award; Mould Scholarship (Gray's Inn).  Current posts: Visiting Professor 1995- ; Deputy Chairman, the Trust Law Committee, 2005- ; Judge (part-time) of the Court of Trusts and Fiduciary Relations, Republic of San Marino, 2014- ; Specialist Civil Circuit Judge (Chancery), 2017- . Formerly: Lecturer 1979-83, Visiting Lecturer 1985-86, UCL; Visiting Lecturer 1981-84, City University; Partner, 1987-92, consultant 1992-96, Hopkins & Wood; Visiting Senior Lecturer 1991-94, KCL; Visiting Lecturer 1991-99 Institut du Droit des Affaires, Université Aix-Marseille; Deputy Coroner 1994-2002 City of London; Consultant, Withers, London, 1996-2015; HM Coroner, City of London, 2002-16; Trustee, The David Isaacs Fund (registered charity), 2003-2017; Deputy Chancery Master 2008-15; Visiting Professor, Jersey Institute of Law, 2009-13; Referent, Universität Liechtenstein, 2010-15; Recorder (Civil) 2010-17; Chancery Master 2015-17. Editorial posts: Assistant Editor 1995-2011, Joint Editor 2005-11, Trust Law International; Editorial Board, Jersey and Guernsey Law Review, 1997-  .
Research interests
Property law, Trusts, Inheritance law, Restitution, Comparative law (especially property trust and inheritance law), Jersey and Guernsey, Coroners' Law.  
Publications
The compatibility of the trust with the civil law notion of property, in (ed) Smith, The Worlds of the Trust, CUP, 2013; Jervis on Coroners, 13th ed 2014, Sweet & Maxwell (also 10th ed 1986, 11th ed 1993, 12th ed 2002);
Underhill & Hayton, Law of Trusts and Trustees (with D Hayton and C Mitchell), 19th edition 2015 (also 17th ed 2006, 18th ed 2010), LexisNexis Butterworths;
A commentary on Langbein, Why the rule in Saunders v Vautier is wrong, in (ed) Turner, Equity and Administration, CUP, 2016;
Disclosure (with H M Malek QC), 5th ed 2017, Sweet & Maxwell (also 1st ed 1992, 2nd ed  2000, 3rd ed 2007, 4th ed 2012).
Teaching
LLM International and Comparative Trust Law