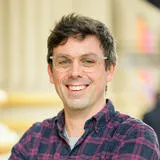 Mr Peter Gallivan
Outreach Support Manager
Contact details
Biography
Peter Gallivan is the Outreach Support Manager in the Faculty of Natural, Mathematical and Engineering Sciences, King's College London. In this role, he supports and facilitates outreach programmes across the faculty and its five departments.
Before working at King's, Peter worked as Family Programme Manager at the Royal Institution, organising a diverse range of hands-on STEM-focussed activities for families and young people. Prior to this, worked at Kandersteg International Scout Centre in Switzerland, managing a wide-ranging programme of outdoor education programmes.
He is also a freelance science writer, contributing regularly for the award-winning young people's science magazine The Week Junior Science+Nature.
Responsibilities:
Planning and delivering faculty-wide outreach programmes
Sharing best practice in outreach activity across STEM departments
Developing and supporting a range of STEM outreach activities
Connecting faculty and college outreach and Widening Participation programmes, staff and students