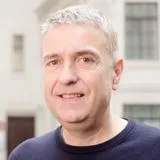 Peter Holt
EAP Tutor
Contact details
Biography
Peter studied Government at the University of Essex before embarking on a career in teaching and testing English for Academic Purposes (EAP). His interest in EAP has led to two related qualifications; the RSA/Cambridge Diploma in TEFLA from Gloscat, Cheltenham, UK and an MSc. in TESOL from Aston University, UK.
Peter has spent many years teaching EAP and working as a testing and assessment coordinator on two EAP programmes in Istanbul, Turkey. He returned to the UK in 2015 to take up a similar position at the University of Bradford before starting at King's College in the spring of 2017 where he works as a Pre-sessional and In-sessional Assistant Coordinator. He has also taught in Portugal, Germany and Poland.
Peter has a keen interest in the assessment of reading and writing within an EAP context as well as developing materials to support EAP vocabulary learning. For over seven years he has coordinated a Special Interest Group for Testing for Academic Purposes within the European Association for Language Testing and Assessment (EALTA). In his spare time, he enjoys reading, music, and travelling.