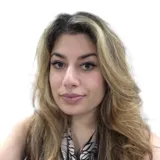 Dr Priya Kadam
Biography
After completing a degree in psychology, Priya Kadam (MSc Neuroscience, 2012) worked in a psychiatric hospital, before coming to King's to study Neuroscience. Speaking about her time at King's, Priya remarked that it was an 'unforgettable experience which broadened (her) horizons with knowledge. and an appetite for further learning'. 
After completing her MBBS at St George's, University of London, Priya went on to work as a foundation doctor, with a particular interest in Neuroscience, Neurology, and Neurosurgery. In 2021, Priya was voted 'Outstanding Foundation Doctor of the Year' by University Hospitals Plymouth and Health Education England. 
What are your happiest memories of your time at King's?
My cohort during the MSc was such a vibrant and exciting group of people. We would socialise as well as work together and all possessed a similar work ethic, which made things both exciting and enjoyable in the lab & classroom. I really enjoyed the nature of the course, where we learnt directly from researchers from all around the world. I thought the course was organised in such a unique manner; a lot of thought has been put into not only what we learn, but how we learnt it.
How have you stayed connected to King's since graduating, and why is being part of your alumni network important to you?
Small things, like still using the King's libraries, attending academic talks - they keep us connected. Other times realising that you and others you meet are both King's graduates - you have a connection. It is a privilege to be part of an academic family & institute of knowledge.
What success stories have you had in your career?
It was a pleasure receiving the award for 'Outstanding Foundation Doctor' last year, and very touching. I, like so many, worked on the front line throughout the COVID pandemic and those uncertain first months. There was so much emotion and rich humanity within those experiences, they really kick started my work as a doctor. I'll never forget those.
How has the ability to understand and interact effectively with people from other cultures and/or backgrounds been important in your life or career?
Medicine is a hybrid of people and science, and if you can interact and learn about others, then the relationship you have with them forms part of the treatment. For me, I enjoy meeting people from different nationalities & cultures - it keeps things interesting both in life & in my daily work.
What advice would you give to students and alumni for success in life after King's?
Be open minded, take up opportunities which come your way & network with others in surrounding fields to yours.
To stay in touch with your alumni community, make sure to sign up for King's Connect. It provides the most effective way for you to connect with King's alumni, as well as presenting opportunities to boost your career through mentoring. Sign up today at kingsconnect.org.uk