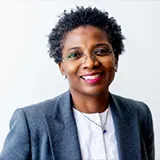 Professor 'Funmi Olonisakin FKC
Peace and security expert
Biography
Professor 'Funmi Olonisakin (MA War Studies, 1990; PhD War Studies, 1996) is Vice President International, Engagement and Service (IES) at King's College London. She is also Professor of Security, Leadership and Development at the African Leadership Centre in the School of Global Affairs at King's. Professor Olonisakin seeks to facilitate the deployment of King's assets (including knowledge, scholarship and talent in service of society) locally, nationally and internationally, to enable transformative and lasting impact. She is committed to building inter-disciplinary and intersectoral collaboration, and sustaining equitable partnerships to realise positive and lasting impact within and beyond King's.
Producing knowledge that influences change beyond the academy has been at the heart of Professor Olonisakin's research work and life as an academic. She has positioned her work to serve as a bridge between academia and the worlds of policy and practice. Her research has been shaped by her interest in deepening understanding of why civil wars relapse, and the drivers of youth vulnerability and exclusion in the developing world. She has sought to explore the interface between leadership, peace, and security as a basis to unpack and understand the big transnational problems that confront the world today. She has led a number of major projects including research on future peace, society and the state in Africa, supported by the Carnegie Corporation of New York.
In 2010, as part of a partnership between King's College London and the University of Nairobi, Professor Olonisakin established the African Leadership Centre (ALC). The ALC aims to develop a new community of leaders generating cutting edge-knowledge for peace, security and development in Africa. Professor Olonisakin focuses on inclusive postgraduate research training at the ALC, combining field-building with community-building while working with inter-generational research teams to translate knowledge generated into multiple forms of collaborative engagement regionally in Africa, and globally.
Previously, Professor Olonisakin worked in the United Nations Office of the Special Representative of the Secretary-General in New York, between 1999 and 2003. From 2003 until 2013, she was Director of the Conflict Security and Development Group at King's.
In January 2015, United Nations Secretary-General, Ban Ki Moon, appointed Professor Olonisakin as one of seven members of the Advisory Group of Experts (AGE) on the Review of the UN Peacebuilding Architecture; and in 2016, as a member of the Advisory Group of Experts for the United Nations Progress Study on Youth, Peace, and Security. In 2018, she was appointed to the Council of the United Nations University, on which she currently serves as Chair. She was awarded the Fellowship of King's College in 2020.
University of Pretoria (UP), where she was appointed as an Extra-Ordinary Professor in 2016, conferred the degree of Doctor of Philosophy (honoris causa) on Professor Olonisakin in May 2022 in recognition of her significant contributions to the promotion of peace, security, justice, and international solidarity in Africa, with special reference to women and youth.
Professor Olonisakin was educated at the University of Ife, Nigeria (now Obafemi Awolowo University) and King's College London. She was a postdoctoral Fellow at the Department of Political Sciences in UP in 1998, and was awarded a McArthur Foundation post-doctoral fellowship in the Department of War Studies from 1998-1999.
News
New study shows group counselling and one -on-one peacebuilding activities improve mental health in Nigeria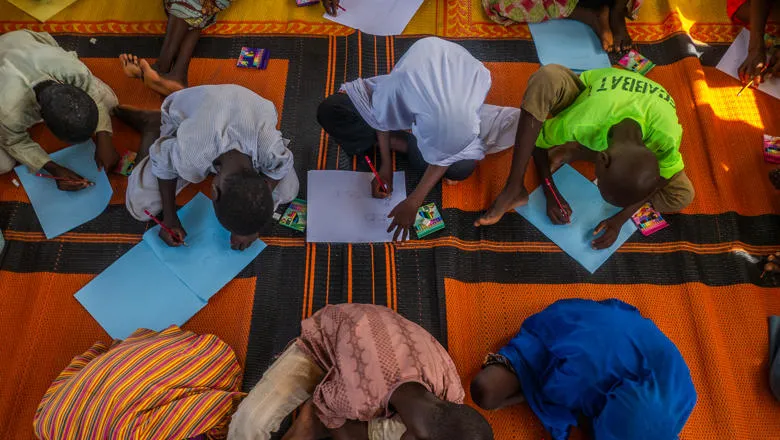 News
New study shows group counselling and one -on-one peacebuilding activities improve mental health in Nigeria