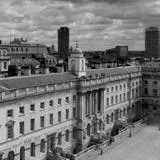 Professor Margaret Bloom
Visiting Professor
Contact details
Biography
Margaret Bloom read Economics at Cambridge University. She was an economist in the private sector before joining the Civil Service where she worked in the Cabinet Office and the Department of Trade and Industry on privatisation, competition policy and public sector finance. Following that, she was Director of Competition Enforcement at the Office of Fair Trading where she was responsible for implementing major competition legislation and casework. While a Visiting Professor at King's, she established and chaired a highly regarded series of public lunchtime lectures from eminent members of the competition community. Margaret is now an Honorary Professor at King's.Margaret was a Vice Chair of the OECD Competition Committee and Adviser to the International Competition Network. In 2003 she was presented with a US Department of Justice plaque for international antitrust and "the Fight Against International Cartels" and made a Commander of the Order of the British Empire. She won a Global Competition Review Lifetime Achievement Award in 2011. Margaret is now a Senior Consultant at Freshfields Bruckhaus Deringer, Vice Chair of the Professional Standards Council for Asset Based Finance, an Independent Member of the LINK Consumer Council and an Independent Member of the Access to Cash panel. 
Research Interests
Margaret's main research interests are in UK and EU competition law and US antitrust law.
Teaching 
Margaret supervises competition law and economics related research for MPhil/Ph.D. students.
Selected Publications
• Convergence and Cooperation in International Merger Control, chapter in William E. Kovacic: An Antitrust Tribute – Liber Amicorum – Volume II, edited by Nicolas Charbit and Elisa Ramundo, Institute of Competition Law, 2014
• Bloom, M., and Howard, A., (Consultant Eds.), UK Competition Procedure, by Elizabeth O'Neill and Emma Sanders, OUP, 2007.
• Despite its great success, the EC leniency program faces great challenges, presented at the 11th EUI Competition Law and Policy Workshop, June 2006, in Ehlermann, C.-D. and Atanasiu, I., (eds), European Competition Law Annual 2006: enforcement of prohibition of cartels, (2007) Hart Publishing
• The Great Reformer: Mario Monti's legacy in Article 81 and cartel policy, Competition Policy International, Vol. 1, No. 1, Spring 2005