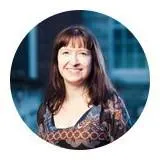 Professor Sarah Cooper
Professor of Film Studies
Contact details
Biography
Sarah was an undergraduate and a postgraduate student at Cambridge University, Corpus Christi College, where she completed a BA Honours Degree in Modern and Medieval Languages (French and German), an MPhil in European Literature, and a PhD thesis on French feminist theory and North American queer theory. She worked as a Staff Fellow and Newton Trust Lecturer in French Studies at Trinity Hall, Cambridge University from 1998-2004, before moving to King's to lecture in Film Studies from 2004.
Research Interests and PhD Supervision
History of film theory
Film and philosophy
Film and ethics
Modern critical theory
Art house cinema; documentary; French-language cinema
Sarah's most recent research explores the extraordinary ways in which film can stimulate and direct the image-making capacity of the imagination. From documentary to art house cinema, and from an abundance of onscreen images to their complete absence, films that experiment variously with narration, voice-over, and soundscapes do not only engage the thoughts and senses of spectators in a perceptually rich experience. They also make an appeal to visualize more than is visible on screen and they provide instruction on how to do so as spectators think and feel, listen and view.
Her book, Film and the Imagined Image (EUP, September 2019) brings together philosophy, film theory, literary scholarship, and cognitive psychology with an international range of films from beyond the mainstream, in order to chart the key processes that serve the imagining of images in the light of the mind, navigating a labile and vivid mental terrain that has yet to be recognized in studies of spectatorship.
This is Sarah's fifth monograph and it consolidates her fascination over many years with exploring the conjunction of film, theory, and philosophy, as well as taking her interests into new territory. Her prior film books have focused on the following topics: the ethics of Emmanuel Levinas and its implications for considering ethical issues in the spectatorship of documentary; the films of Chris Marker; and the history of the concept of the soul in western film theory. She has had articles published in Screen, Studies in French Cinema, Studies in European Cinema, and Film-Philosophy, among many other journals and edited collections, on a number of different directors, from the Dardenne brothers to Yorgos Lanthimos, Claire Denis to Maya Deren.
Currently she is putting together a Special Issue on film and imagination for Paragraph, which will also be published as an edited book, and which showcases the work of an international selection of film scholars on this topic. She is also researching into vegetal life on film and is pursuing her love of flowers, onscreen and off.
Sarah welcomes applications for PhD topics related to any of her research interests.
For more details, please see her full research profile.
Selected publications
Film and the Imagined Image (EUP, September 2019)
The Soul of Film Theory (Palgrave Macmillan, 2013)
Chris Marker (MUP, 2008)
Selfless Cinema? Ethics and French Documentary (Legenda, 2006)
Relating to Queer Theory: Rereading Sexual Self-Definition with Irigaray, Kristeva, Wittig, and Cixous (Peter Lang, 2000)
Teaching
Sarah has taught across all levels, from first-year to final-year undergraduates, through MA students on the general Film Studies degree as well as the MA Film and Philosophy pathway, to PhD students. In keeping with her research interests, her teaching has focused mainly on film theory and film philosophy, but she has also devised themed courses on spectatorship, ethics, and ecology, among other topics over the years.
Expertise and Public Engagement
Sarah served as Honorary Secretary for the Society for French Studies in the United Kingdom and Ireland from 2000 to 2008. She was on the Editorial Board of Film-Philosophy from 2006 to 2014 and is now on the Advisory Board. She is co-editor of the 'Thinking Cinema' book series with Bloomsbury Press, launched in 2014, which publishes cutting-edge research on theory, philosophy, and film.