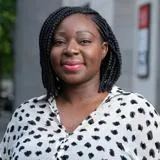 Ms Queen Ilebode
Operations Officer (HR & Finance)
Contact details
Biography
Queen Ilebode joined Faculty of Life Sciences & Medicine - School of Immunology & Microbial Sciences (SIMS) as Operations Officer (HR & Finance) in December 2022. The role is focused on providing high-quality Human Resources and Financial operational support to the School and to support and deputise for the School's HR & Finance Manager.
Joining King's College London in August 2021, Queen previously worked at the ESRC Centre for Society and Mental Health (a collaboration between Institute of Psychiatry, Psychology and Neuroscience and the Faculty of Social Science and Public Policy) and then King's Business School - before moving to FoLSM SIMS.
Queen has over 7 years working experience in the Higher Education sector, which includes Imperial College London, UCL, and City University of London.