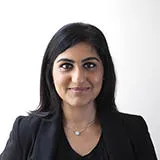 Rabia Harrison
Director of Operations
Biography
Rabia is Director of Administration in The Dickson Poon School of Law. She works with the Executive Dean and the Law Executive Team (LET) to lead the strategic direction of the School.
The Director of Administration has overall responsibility for the Law School's Professional Services teams.
In addition to her work at King's, Rabia is an independent governor at the Conservatoire for Dance and Drama as well as the Deputy Chair for the Board of Governors at a local primary school.