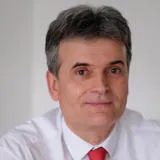 Dr Radivoj Arezina
Visiting Senior Lecturer
Contact details
Biography
Dr Radivoj Arezina is a Visiting Senior Lecturer at the Faculty of Life Sciences & Medicine, within the School of Cancer & Pharmaceutical Sciences.
Dr Arezina trained at the University of Zagreb School of Medicine. After qualifying as a medical doctor and an initial spell in clinical medicine, he has spent most of his career in clinical research showing a keen interest in innovation and patient care improvements. His wide-ranging experience has been gained over the years at some of the UK's most reputable clinical research organisations and academic institutions. To date, he has performed over 200 clinical trials as an investigator, ranging from first-into-human to Phase III trials and covering different therapeutic areas including cardiovascular, respiratory, gastrointestinal, CNS, pain, dermatology, endocrinology and urology.
Besides his academic interests, Dr Arezina is also a scientific lead and Managing Director at UK-based CRO Stridon Clinical Research. Prior to establishing Stridon, he co-founded Richmond Pharmacology and was instrumental in making it a UK-leading Phase I CRO.
As a result of his work, Dr Arezina has been an invited speaker and has given talks, either in his personal capacity or as part of the UK government-backed trade delegations, to academic and industry forums in Europe, USA, and Japan. He has published extensively in peer-reviewed journals, with a particular research interest in assessing the impact of new medicines on cardiovascular safety, and in the science of clinical trial design and methodology.