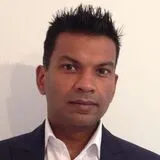 Dr Raj Srirajaskanthan
Honorary Reader in Gastroenterology
Biography
I am the lead of the Kings Health Partners Neuroendocrine Tumour service which is a recognised European Centre of Excellence (ENETS Centre of Excellence). We treat patients with neuroendocrine tumours / neoplasms within a multidisciplinary team and offer a wide range of therapies and novel treatments.
Neuroendocrine neoplasms are relatively uncommon tumours with an incidence of 7 per 100 000 population a year and can arise in almost any organ of the body. They comprise of a diverse range of tumours from relatively indolent to highly aggressive tumours. Within our centre of excellence we have treated over 3000 patients with this type of tumour.
The aims of my research programme are focussed in three areas. Develop a better understanding of the epidemiology and health care utilization of neuroendocrine neoplasms. Develop approaches to understanding and treating the nutritional requirements of patients and novel approaches to improving quality of life. Finally, in collaboration with the Foundation of liver research we are developing ex-vivo models of neuroendocrine tumours to better understand tumour physiology and develop novel therapeutic targets.