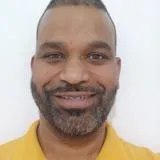 Mr Ramesh Valapil MBA
MR Clinical Research Facility Manager
Contact details
Biography
As the MR Clinical Research Facility Manager, I am responsible for the day to day management of MRI services run by the School of Biomedical Engineering & Imaging Sciences. This includes overseeing and managing all aspects of the operational and business activity of Imaging Clinical Research Facility including staff support, governance, budget planning, monitoring, and reporting, marketing, and strategic planning.
The facility currently has 8 MRI scanners of field strengths ranging from 0.064T to 7T and a cardiac catheterisation laboratory. With the Director of Imaging Operations, I am responsible for providing costing of research projects based on the complexity of scanning protocols, the resources required and the funding body. I provide inputs into the development of research protocols, documentation, and related procedures. I support senior staff in the coordination of research scans including scheduling and completion of relevant documentation.
In my role I support PIs and Research Managers in the administration of MR Imaging research projects including preparation and organisation of documentation and monthly charging procedures for individual research scans. I liaise closely with researchers to ensure relevant resources are available for complex scans and ensure compliance with King's business procedures with respect to contract research and actively encourage the development of research interest within MR imaging and, where possible, to facilitate individual projects.