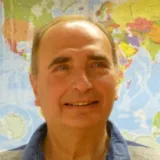 Professor Randolph Kent
Visiting Professor
Contact details
Biography
Professor Randolph Kent is a Visiting practitioner as part of the Practice of Leadership programme with the African Leadership Centre.
He is a Senior Associate Fellow at the Royal United Services Institute. Prior to this, he directed the Humanitarian Futures programme at King's. Here, he and his staff worked from 2004 to 2016 with a wide range of multilateral, bilateral and non-governmental organisations to strengthen their strategic and planning capacities for dealing with longer-term humanitarian threats.
Randolph accepted his post at King's after completing his assignment as UN Resident and Humanitarian Coordinator for Somalia in April 2002. Prior to this, he served as United Nations Humanitarian Coordinator in Kosovo (1999), United Nations Humanitarian Coordinator in Rwanda (1994-1995), Chief of the United Nations Emergency Unit in Sudan (1989-1991) and Chief of Emergency Prevention and Preparedness in Ethiopia (1987-1989).
After graduating from the London School of Economics, Randolph became director of the London campus of the University of Southern California's School of International Relations.
Since then, he has written over 60 articles and various chapters on subjects principally pertaining to humanitarian crises, and systems dynamics and organisational behaviour relating to humanitarian crisis response.
Randolph is the author of Anatomy of Disaster Relief: The International Network in Action, and soon will be completing a book entitled, Cassandra's Challenge: Planning from the Future for the Future.