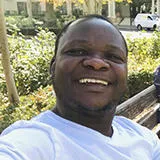 Mr Raymond Mlambo
Full Stack Developer
Biography
Raymond Mlambo is a Software Engineer in the Faculty of Natural, Mathematical and Engineering Sciences, focusing primarily on developing and maintaining the bespoke systems within the computing support department.
Before joining the team in NMES, he was a software engineer in South Africa, working in higher education for 8 years, where he was tasked with Moodle development (using PHP), ASP.NET development, Python (Django) development as well as managing the development team in the capacity of IT Development Manager.
He holds a BSc degree in Information Technology. 
Responsibilities
Contribute to the development, maintenance and testing of the bespoke and open- source faculty web applications
Apply the latest security updates and patches to our open source web applications.
Create and update user documentation for our bespoke systems
Create unit tests for the bespoke web applications
Installing and configuring open-source web applications
Resolving support tickets escalations
Understand technical specification but also being confident to challenge proposed solutions.