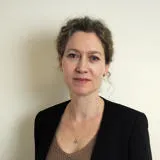 Professor Rebecca Riley
Professor of Practice in Economics
Director, UK Economic Statistics Centre of Excellence (ESCoE)
Contact details
Biography
Rebecca Riley is Professor of Practice in Economics at King's Business School, King's College London. She is Director of the Economic Statistics Centre of Excellence (ESCoE), a research centre established in 2017 to address emerging and future issues in measuring the economy, to build capacity and collaboration between the Office for National Statistics and academia, and to raise the profile of economic measurement issues.
She also leads the measurement and methods research theme of the ESRC funded Productivity Institute, a UK-wide organisation which aims to lay the foundations for an era of sustained and inclusive productivity growth by bringing together academic research, policy studies and business engagement. Previously she worked as an Associate Research Director at the National Institute of Economic Research (NIESR), where she was Head of the Productivity, Innovation and Skills Research Group and before then led the NIESR UK economy forecast team.
Rebecca has written extensively on UK labour market policy, economic and productivity performance. Her current research considers: minimum wage legislation and its impacts on businesses and low paid workers; links between business performance, market structure and macroeconomic outcomes; measurement of firms' investments in intangible assets and their returns; and the impacts of globalisation on local economies and the relocation of work.
Her research has been published in academic journals and in numerous policy research reports. She has been an external advisor to several government departments and public bodies, including the Department for Business, Energy and Industrial Strategy, the Department for Work and Pensions, the Low Pay Commission, the Office for National Statistics and UK Trade & Investment. She is a member of the Conference on Research in Income and Wealth (CRIW) at the NBER and a member of council of the International Association for Research in Income and Wealth (IARIW).
Are you currently accepting new PhD students?
Yes
News
Collaboration with Office for National Statistics will broaden scope to look at new challenges
News
Collaboration with Office for National Statistics will broaden scope to look at new challenges