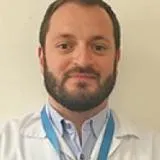 Dr Refik Gokmen
Consultant
Biography
Dr Gökmen studied at Cambridge and UCL, and qualified in 2001. He undertook training in renal medicine at the Royal Free Hospital, the Royal London Hospital, King's College Hospital and Guy's & St Thomas'.
He was a Kidney Research UK Clinical Training Fellow in 2007-2010 with Professor Graham Lord in the MRC Centre for Transplantation, and a Clinical Lecturer at King's College London in 2011-2014.
He was appointed as a Consultant at Guy's & St Thomas' in April 2014.