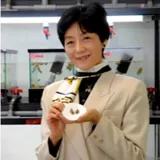 Reiko Kuroda
Emeritus Professor
Biography
Reiko Kuroda was born 1947, and educated at University of Tokyo (MSc 1972 and PhD Chemistry 1975). Following the completion of her PhD, she became a postdoctoral researcher at King's College London in Stephen Mason FRS's group in the Department of Chemistry then in Steve Neidle's group in the Department of Biophysics.
She later moved with Neidle group to the Institute of Cancer Research before being offered a Chair of Chemistry at the University of Tokyo. When she returned to Japan in 1986, she became the first woman to be made a full professor in natural sciences at the University of Tokyo.
Her research focus is on chirality and handedness in biology, showing how snails get their twist. She won the Saruhashi Prize and L'Oreal-UNESCO Award for Women in Science. She is currently a professor at Chubu University, a member of the Swedish Academy of Sciences and an Emeritus Professor of University of Tokyo.