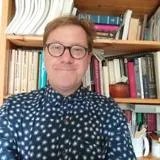 Revd,Dr Piotr Ashwin-Siejkowski
Visiting Research Fellow
Contact details
Biography
Piotr studied ancient philosophy and early Christian theology in the Dominican House of Study in Krakow (1986 - 1992) where he received MA in Philosophy of Religion (1991). He gained his PhD at the University of Warsaw (1998) with his thesis on Clement of Alexandria and Plotinus. He previously worked as an Anglican Chaplain (2001-2004) and Associate Lecturer in Early Christian Theology at University of Chichester (2001- 2012) and Tutor in the New Testament Greek at King's (2016-2020).
Research interests
Christian Origins and the formation of Christian Doctrine (1st to the later 3th century CE, particularly in the Alexandrian milieu).
Emergence of Alexandrian hermeneutical tradition: Philo, Valentinus, Clement of Alexandria, Origen.
Reception of the NT documents in the Nag Hammadi collection: Valentinus and his milieu.
Teaching
Online lectures on various Early Christian subjects, study days for clergy, academic symposia, talks in various Christian communities, Summer School of the New Testament Greek.
Expertise and public engagement
Study days for clergy, academic conferences, talks in various Christian communities, radio.
Selected publications
"Valentinus' legacy and Polyphony of Voices (London - New York: Routledge, 2021)
"T&T Clark Handbook of the Early Church" (London - New York: Bloomsbury, 2021)
(2017) "Clement of Alexandria's Reception of the Gospel of John: Context, Creative Exegesis and Purpose", in: Clement's Biblical Exegesis. Proceedings of the Second Colloquium on Clement of Alexandria, edited by V. Cernuskova, J.L. Kovacs and J. Platova, (Leiden: Boston), 259-276.
(2017) "Alexandria ad Aegyptum. The City that inspired a polyphony of Early Christian Theologies", in: The Urban World and the First Christians, edited by S. Walton, P. R. Trebilco and D.W.J. Gill, (Grand Rapids: Eerdmans), 205-215
(2015) "Clement of Alexandria" in: The Wiley Blackwell Companion to Patristics, edited by K. Parry, (New York – Oxford: Wiley-Blackwell), 85-97.