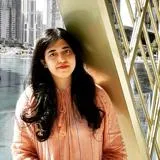 Rida Bokhari
International Marketing MSc, 2017
Biography
Describe your career journey from being a student at King's to being in your current role
Being a part of King's has been a truly incredible journey, one that enabled me to explore and unleash my true potential at a personal and professional level. I believe that I am amongst the lucky ones to have had the opportunity to enrol in one of the UK's leading universities and learn from industry leaders. I landed my very first role as Senior Programme Officer at an international and intergovernmental science and technology organisation based in Pakistan, even before I had officially graduated. As a Senior Programme Officer, I worked with some of the leading names in the field and demonstrated the workplace skills inculcated in me during my time at King's, especially leadership.
After around two years, I chose to move on to further explore my potential as a marketeer and content creator taking on creative projects. At present and for the short term, I chose to work on projects with multiple brands and organisations to support in designing their marketing and communications content and strategy. I also run my own page as a content creator, and I am officially serving as the King's College London Alumni Ambassador for Pakistan.
What's the one thing you enjoy most about your current role?
I believe that each role has its own charms and takeaways, and as a freelancer and content creator at present I truly enjoy the freedom of 'creation', as well as variety and diversity that I can practice in my roles, while watching a small idea transform into something big. Each day is different, and it is a great adventure.
What have been your biggest achievements in business and your career so far?
As a professional, one is continuously evolving towards the 'bigger and better' and all my roles have truly helped me develop skills for a lifetime. Whether in a voluntary, full time, or project-based roles, they have helped me build on my communication and leadership skills. These skills enabled me to execute nationwide events, develop projects, and create a positive impact on people's lives in my capacity. My biggest achievement is when someone praises my work as a symbol of inspiration or compassion toward others.
How did your time at King's help with your career journey?
King's has truly taught me the value of diversity and how one can continue to embrace multiple roles simultaneously, while bringing about a change and excelling in all of them. While at King's, I was introduced to the idea and importance of diversity in my experience and that was the starting point. It helped me as a fresh graduate to build my portfolio, go above and beyond as a professional and have a unique story as an individual.
What is the best piece of advice you have for current King's Business School students on achieving success in their careers?
The one advice for all the soon-to-be graduates is to discover and explore your true calling, embrace your uniqueness, and do not let fear become boxes that enclose you within. In order to achieve the extraordinary, you need to embark on a journey that is unique to you.
What advice would you give to future students thinking about studying at King's Business School?
Student life at King's is exceptional and provides the opportunity to connect with amazing individuals from around the globe, make lifelong friends, learn from renowned experts from all fields and most importantly it is a one of a kind cross-cultural experience. Faculty and staff at King's Business School are highly supportive and students should make use of the opportunity of networking and attending events to get an insight on their desired industries and learn from leading experts in their fields.