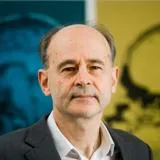 Professor Robin Morris
Emeritus Professor of Neuropsychology
Contact details
Biography
Professor Robin Morris is a clinical-academic neuropsychologist at the IoPPN. He has conducted research mainly into consciousness, memory and executive functioning in a range of neurological and psychiatric disorders. His work has encompassed dementia, cerebrovascular disorder, epilepsy, attention deficit hyperactivity disorder, psychosis and eating disorders. As part of his research, he developed the Cognitive Awareness Model (CAM), which provides explanations of lack of awareness of disability in patients with neurological disorder.
In 2018 he retired and is now Emeritus Professor of Neuropsychology at the IoPPN, where he continues to do research and teaching. He has an honorary contract as a consultant neuropsychologist at the Department of Clinical Neuropsychology, King's College NHS Foundation Trust.
He completed a degree in Psychology and Physiology at the University of Oxford and did his training in clinical psychology at the University of Newcastle-upon Tyne. He then did a PhD at the University of Cambridge, supervised by Professor Alan Baddeley and Dr Edgar Miller. His post-doctoral work was with Professor Trevor Robbins at the University of Cambridge and Professor Fergus Craik at the University of Toronto, where he was an assistant professor.
In 1989 he was appointed Lecturer in Clinical Psychology at the Institute of Psychiatry and in 1990 Senior Lecturer in Clinical Psychology and Head of Clinical Neuropsychology in the Maudsley and Bethlem Hospitals and King's College Hospital. In 1996, when clinical neurosciences in the South East of England amalgamated to form the King's College Hospital Clinical Neurosciences Centre, he was made Head of the Clinical Neuropsychology Department, this eventually encompassing neuropsychology services within the King's College Hospital NHS Foundation Trust.
In 2001 he was appointed Professor of Neuropsychology at the Institute of Psychiatry and in 2012 Lead for Neuropsychology in Clinical Neurosciences within the King's Academic Health Sciences Centre, the latter organisation bringing together world leading research within three prominent London NHS Foundation Trusts, Guy's and Thomas, King's College Hospital and South London and Maudsley.
He has been awarded numerous competitive research grants, and authored or co-authored over 300 scientific papers in neuropsychology, including in journals such as Nature, Neurology and Cortex, having an H Index (2021) of 91. He has supervised many PhD students and trained around 80 clinical psychology trainees in clinical neuropsychology.
In 2013 he was awarded the Barbara Wilson Award for his outstanding contribution to neuropsychology and in 2016 the British Psychological Society (BPS) Lifetime Achievement Award for Applied Psychology, given on the basis of outstanding personal career success also reinvesting in psychology through encouraging and developing others. In 2018 he was awarded the Lammy Lasting Impact award for his work in the NHS. In 2021 he received the Paul Satz Mentoring Award from the International Neuropsychological Society, given to those whose mentoring has had a profound effect on the careers of students in the field of neuropsychology nationally and internationally.
He has been a long-term serving committee member of the BPS Division of Neuropsychology and the British Neuropsychological Society, as well as serving on the Governing Board of the International Neuropsychological Society. 
He has promoted neuropsychology in the media, including on CNN, and on BBC Radio Five Live, World Service and World News.
Research Interests: 
Neuropsychology of Memory and Executive Functioning; 
Neuropsychology Dementia 
Neuropsychology of Cerebrovascular Disease