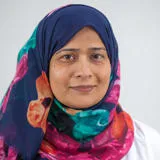 Romana Kazmi
Muslim Chaplain
Contact details
Biography
Romana Kazmi is a Muslim Chaplain. She works part-time at King's and can usually be found on campus on Fridays.
Romana divides her time between King's College London and Great Ormond Street Hospital, where she works as a Paediatric Chaplain. She has extensive experience as a national and international spiritual teacher and has a particular interest in healthcare ethics. She obtained her BSc in Psychology in America and is a qualified counsellor.
Romana has spent the last two years organising and carrying out aid work for refugees in Calais and Iraq. She also spends part of her time doing youth and women's work in her local Muslim community.