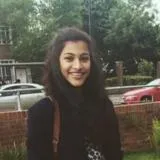 Rukmini Roy
Research Assistant
Research interests
Neuroscience
Psychology
Imaging sciences
Contact details
Biography
Rukmini joined the Forensic & Neurodevelopmental Science department as a Research Assistant in September 2022.  Rukmini is a member of the  Cultural and Social Neuroscience (CSN) research group, and is working on two projects:
Spiritual Communication in Spiritualist Mediums - investigating the neurophysiological mechanisms of non-pathological analogues of first-rank symptoms such as auditory verbal hallucinations and thought insertion.


Virtual Reality Oracle (VRO) - investigating how cultural/ritualistic practices produce changes in cognition and experience through effects on brain function. An interdisciplinary project combining cognitive neuroscience, ancient history, human-computer interaction and psychology to create a VR experience of ancient Greek Oracle at Dodona in NW Greece.
Prior to her Research Assistant role, Rukmini completed her MSc in Neuroscience at KCL. Her research project involved using hypnotic suggestion to model first rank symptoms of psychosis (hallucinations and delusions) in healthy volunteers, while capturing the underlying neurophysiology of these experiences with EEG.
In terms of research interests, Rukmini is keen to understand how we maintain a unified sense of self and agency, and how this is altered in religious practices as well as in disorders of mental health. More broadly, she is interested in understanding what distinguishes culturally valued experience from psychopathology across different cultures.
Research Interests
Hypnosis/hypnotic suggestions
First-rank symptoms
MRI/EEG
Altered self-experience