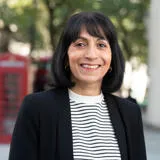 Ms Rupinder Morrow
Senior Careers Consultant (King's Business School)
Contact details
Biography
Rupinder Morrow is a Senior Careers Consultant with King's Business School.
With extensive experience in graduate careers, Rupinder currently leads on all matters relating to the delivery of high-quality careers education, information, advice and guidance to students and graduates on the Banking and Finance MSc, Finance Analytics MSc and Finance (Asset Pricing) MSc courses at King's Business School.
Rupinder is committed to continuous quality improvement and during her time at King's Business School, UCL, and Regent's University London has designed and implemented excellent tools for student engagement and progression, including specialist masterclasses, work related learning initiatives and modules on career management.
Rupinder has a special interest in supporting international students and work related learning and additionally teaches on a masters module 'Work Related Learning in Higher Education' for the University of Warwick.