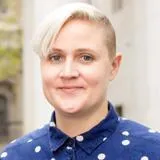 Saio Gradin
Global Politics Tutor
Contact details
Biography
Prior to joining King's Foundations, Saio was a Lecturer in Politics and International Relations at Queen Mary University of London. Saio taught on the International Foundation Programme at Queen Mary, as well as on undergraduate and postgraduate courses in political theory, globalisation and international development. Saio's PhD focused on radical egalitarian alternatives to neocolonial and capitalist trade across North-South borders. Prior their doctoral studies, Saio completed a Master's degree in International Development at the University of Bristol, and a Bachelor's degree in International Relations at the University of the West of England.
As well as teaching in academia, Saio is a community educator and has run countless workshops as a grassroots activist for global justice. For many years Saio has also worked as a youth worker and a songwriting tutor in a music youth centre. This has nurtured an interest in radical and transformative pedagogies.
Saio research interests revolve around prefigurative politics, non-hierarchical organising, anti-racism, queer feminism and anarchism.