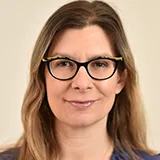 Dr Samantha Gross
Head of Administration
Contact details
Biography
Samantha is Head of Administration at the Policy Institute and a member of its Senior Leadership Team. She leads the operations and resources, research, students and alumni professional services functions for the institute, including the clustered support for the International School for Government and Global Institute for Women's Leadership.
Sam obtained both her PhD and MSc from King's College London and a BA from McGill University in Canada. She originally trained as an academic specialising in addictions, with a particular interest in treatment system design and service quality.
From 2008 to 2014 she was a Senior Researcher at the National Addiction Centre, while serving jointly as Addictions Advisor to the Pilgrim Trust and the J. Paul Getty Jr Charitable Trust. Sam has consulted for a number of statutory and non-statutory organisations in her specialist areas and maintains an interest in drug policy.