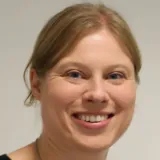 Dr Samantha Terry
Senior Lecturer in Radiobiology
Research interests
Biomedical and life sciences
Contact details
Biography
Dr Samantha Terry's research focuses on determining how radionuclides used for therapy affect either the cells they are targeting or off-target cells in order to determine how we can best use these radionuclides. Her work is mostly in vitro and preclinical, with some aspects of clinical translation. The questions that Samantha would like to answer for a whole range of radionuclides, including those used in imaging, are:
How can therapeutic radionuclides be used to maximize tumour cell kill for the same amount of radioactivity whilst minimizing damage to healthy tissues?
How important is subcellular localisation?
Are radionuclides more effective in metastases?
Does bystander play a role in radionuclide therapy?
How can radionuclides be made more effective, in terms of combination therapies?
Are different cells more sensitive to certain types of radiation than others?