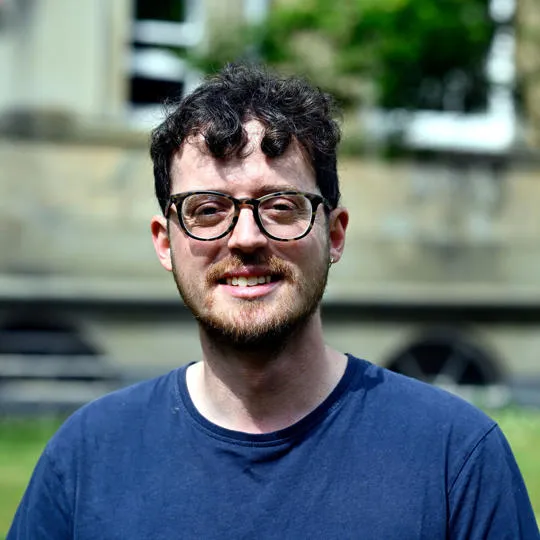 Dr Samuel Kimpton-Nye
Lecturer in Philosophy
Contact details
Biography
BA in Philosophy, Birkbeck, University of London (2013)MPhilStud in Philosophy, King's College London (2015)PhD in Philosophy, King's College London (2018)Teaching Fellow in Philosophy, King's College London (2018/19)Lecturer in Philosophy, Northeastern University London (2019)Research Associate on the MetaScience project at the University of Bristol (2020-2023)
Research interests and PhD supervision
Metaphysics
Early Modern Philosophy (Hume, Leibniz, Spinoza)
Philosophy of Science
Metaphilosophy
Epistemology
I am primarily interested in *modality* (possibility, necessity and related notions). More specifically, I'm interested in: what in the world (or our minds) modality *is*; how we can know about modality and what implications this has for the nature of philosophy and philosophical methodology; modal phenomena in science such as laws of nature; and early modern philosophy of modality in Hume, Leibniz and Spinoza. 
Teaching
I teach core topics in philosophy such as epistemology and metaphysics as well as some applications of these topics. I also teach early modern philosophy. 
Expertise and public engagement
Selected publications
Friend, Toby, and Samuel Kimpton-Nye. 2023. 'Dispositions and Powers'. 2023. https://philarchive.org/rec/FRIDAP-2. Kimpton‐Nye, Samuel. 2021.
'Can Hardcore Actualism Validate S5?' Philosophy and Phenomenological Research 102 (2): 342–58. https://doi.org/10.1111/phpr.12656. Kimpton-Nye, Samuel. 2021.
'Reconsidering the Dispositional Essentialist Canon'. Philosophical Studies 178 (10): 3421–41. https://doi.org/10.1007/s11098-021-01607-2. ———. 2022.
'Laws of Nature: Necessary and Contingent'. The Philosophical Quarterly 72 (4): 875–95. https://doi.org/10.1093/pq/pqab062. ———. 2023.
'How to Be a Powers Theorist about Functional Laws, Conservation Laws and Symmetries'. Philosophical Studies 180 (1): 317–32. https://doi.org/10.1007/s11098-022-01903-5.
Click here to access Samuel's website.