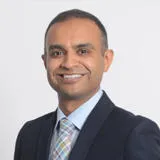 Dr Sanjeev Sood
Honorary Consultant in Paediatric Dentistry/Specialist Clinical Teacher Undergraduate Lead in Paediatric Dentistry
Contact details
Biography
Dr Sanjeev Sood was appointed as Honorary Consultant in Paediatric Dentistry/Specialist Clinical Teacher at King's College London in July 2011.  In his current post at King's College London he is the undergraduate lead in Paediatric Dentistry, the lead for the Postgraduate Certificate in Paediatric Dentistry, BDS Part 5 Exam Board Chair and a clinical and research supervisor on the MSc Programme in Paediatric Dentistry.  
On graduating from the University of Glasgow in 2000 with a BDS, he undertook General Professional Training where he worked in general practice for one year and then as an SHO at the Glasgow Dental Hospital and School.   He remained in Glasgow for a further year during which he successfully completed his MFDS exam from the Royal College of Surgeons of Edinburgh. 
Dr Sood completed his specialist training in Paediatric Dentistry in 2006 in Dublin at the Dublin Dental School and Hospital, where he also carried out a Master's thesis on bonding to teeth affected by Molar Incisor Hypomineralisation at the University of Dublin, Trinity College. He completed his consultant training in Edinburgh at the Edinburgh Dental Institute and Fellowship in Paediatric Dentistry at the Royal College of Surgeons of England in 2011. 
In addition he examines in the Tri-collegiate Membership Examination in Paediatric for the Royal College of Surgeons Edinburgh and the Intercollegiate Specialty Fellowship Examinations in Paediatric Dentistry for the Royal College of Surgeons Glasgow.  Within the College roles he is involved with curriculum development for the speciality, representation on the Paediatric Dentistry SAC, examinations and redevelopment of the specialty examination.