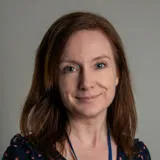 Dr Sarah Werts
Head of Enterprise & Engagement
Contact details
Biography
Dr Sarah Werts is the Head of Enterprise & Engagement (E&E) in the Faculty of Natural, Mathematical and Engineering Sciences, King's College London. In this role she runs E&E support across the faculty and its constituent five departments.
Sarah is highly experienced at developing and delivering a range of knowledge exchange and commercialisation activities that support collaborations between universities, businesses, the public sector and charities. She has spent her career working with government funding and policy, and has particular expertise in grant funding for research and skills development, local growth and regeneration funding, and developing commercialisation strategies.
Sarah holds an MSc in Chemistry from the University of Leicester and a PhD in Chemistry from the University of Bristol.
Responsibilities:
​Lead and manage the E&E Function Team which comprises communications, external engagement and enterprise.
​​Identify, develop and progress industry relationships for NMES across Research and Education (and where appropriate King's more broadly)
​Pursue and promote London-based, national and international activities that benefit the Faculty and the College in relation to impact, prestige, collaboration and revenue generation, supporting the development of the Faculty's strategies for London, International, Service and Culture.
​Design and shape strategy, provide oversight and deliver project management of partnership and innovation initiatives.
​​Closely coordinate and collaborate with stakeholders and partners across the E&E environment and commission relevant services both internally and externally.
​Align and synergise the various externally facing engagement activities (Enterprise, Alumni, Fundraising, Service, International, London, Culture etc.) to maximise interconnection benefits and deliver contiguous support to academics.