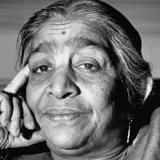 Sarojini Naidu
Politician
Biography
King's educated Sarojini Naidu (1879–1949) was a leading figure in women's suffrage and the Indian independence movement.
Indian-born Sarojini studied at King's with a scholarship at just 16 years old, then went on to Girton College, Cambridge. During her time in London, Sarojini encountered the suffrage movement and quickly became a campaigner and activist, which she remained for the rest of her life.
Sarojini's campaigning gained momentum when she gave evidence to try to persuade the British Government to give voting rights to Indian women. Although this failed, the bill paved the way for Indian states to decide the issue. She soon became a close ally of Indian independence leaders such as Mahatma Gandhi, Gopal Krishna Gokhale and Annie Besant. Sarojini and her daughter, Padmaja, later played an important role in the Quit India Movement against British rule in India, and both were imprisoned several times.
Back in India, Sarojini set up the Women's Indian Association and gave lectures around the country on social welfare and women's empowerment. She also called for more women to be represented in India's independence movement. In 1925, she became the first Indian woman to be president of the Indian National Congress – a political party that later counted Indira Gandhi as the first woman prime minister of India. The party had given a commitment to women's suffrage in 1921, which became law under the Constitution of India in 1947.
Did you know?  Sarojini is also much acclaimed for her poetry and is known as 'the Nightingale of India' for the musical nature of her writing.