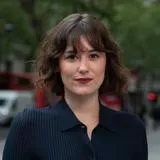 Mrs Saskia Hermann
PhD Student in Human Resource Management & Employment Relations
Research interests
Human Resource Management
Contact details
Biography
Project Title: Change from the bottom up: Understanding the dynamic processes that promote or hinder organisational newcomers' climate-change proactivity
Supervisor: Dr Tara Reich, Dr Uta Bindl
Year of Entry: 2021, full-time
Saskia Hermann is pursuing a PhD at King's Business school, having been awarded a full Doctoral Research Studentship. Specifically, her interests lie in climate change activism at work impacted by one-sided psychological contract development and potential breach.
Saskia is a multiple award winning Master of Research in Management graduate with Distinction at the University of Glasgow. She was awarded the Adam Smith Scholar Award for Excellence for her outstanding academic achievements, and her potential to contribute to future research in her chosen field. Throughout her studies and prior to the PhD, Saskia has undertaken substantial research assistant roles in various projects.
With over 2+ years experience as a student research assistant and one year experience as scientific researcher at the RWTH Aachen University, Saskia was not only able to hone her research skills but also developed her insights into research planning and governance.