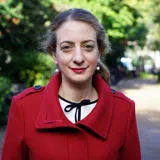 Dr Sevinç Bermek
Lecturer in International Political Economy
Biography
Sevinc is currently lecturer in International Political Economy at the Department of European and International Studies. Previously, she was fellow at the Department of Government. She completed her PhD at the University of Warwick.
Her main current work is on the public policies in authoritarian regimes with a specific focus on housing in Russia and Turkey
Her current project is on the intimate partner violence and gender in Turkey, she investigates the role of social norms and co-ordination elements behind the lack of informal prevention mechanisms in societies.
Research interests
Comparative politics
Party cleavages
Electoral behaviour and gender
Public policy
Teaching
6AAOB344 The City of London and Global Financial Centres
6AAOB335/7AAON035 The Middle East in the Global Political Economy
7AAON009 International Political Economy: Theories and Issues
Latest publications
Shifting Relations between Islamic Non-State and State Actors in Turkey in the Handbook of Political Islam in Europe, Forthcoming 2023.
Trust, State Capacity, and Political Participation: The Long Shadow of the Ottoman Legacy. (with K. Matakos and R. Savolainen, in the Journal of Historical Political Economy, SI: Historical Persistence, 2 (2022).
The Rise of Hybrid Political Islam in Turkey: Origins and Consolidation of the Justice and Development Party, 2019. Palgrave Macmillan.