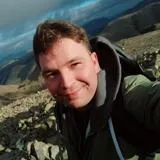 Shane Warren
Administrative Manager
Biography
Shane joined e-Research in February 2023 as their Administrative Manager. He works with every aspect of the department to facilitate its operational effectiveness.
In a previous life as an English Literature graduate; he achieved a Post Graduate Certificate in Education (PGCE) and taught English literature and Language to Key Stage 3, 4 and 5. Eventually achieving a Master's in Education with a focus on refuge education after observing the plight of Ukrainian refugees at his school.

He also has a strong background in logistic management, having served in the Royal Logistic Corp for 16 years as a Reservist. During this time, he was deployed on exercises and mobilised onto operational deployments, which included OP HERRICK 14 in Afghanistan and the MACA tasking OP RESCRIPT in the UK. During the Covid pandemic he utilised his skills to lead an NHS Distribution Centre in Kent, later achieving a Lord Lieutenant's Certificate of Merit for outstanding leadership.
Shane enjoys walking on the South downs, climbing mountains and sky diving.
For any admin questions related to e-Research, please email shane.warren@kcl.ac.uk. For all other enquiries, please email e-research@kcl.ac.uk