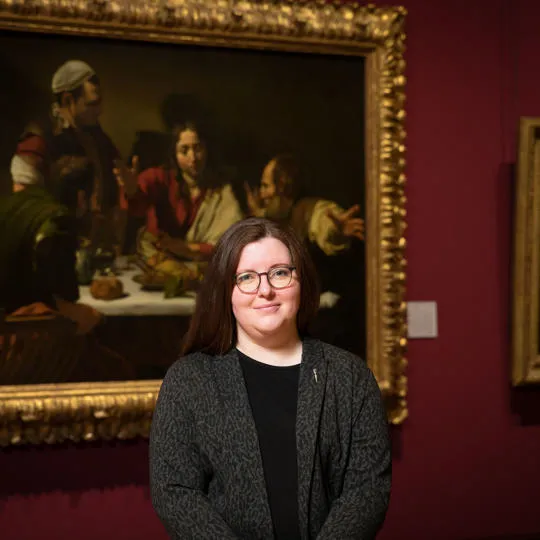 Dr Siobhan Jolley
Visiting Lecturer in Theology and Religious Studies
Contact details
Pronouns
she/her
Biography
Dr Siobhán Jolley is the Howard and Roberta Ahmanson Research Fellow in Art and Religion at the National Gallery, a Visiting Lecturer in TRS at King's, and an Honorary Research Fellow of the Centre for Biblical Studies at the University of Manchester. A specialist in the portrayal of Mary Magdalene, her broader research interests include the work of female artists, the reception of biblical women and the New Testament, and feminist approaches. She completed her PhD at the University of Manchester in 2021 and is a Fellow of the Higher Education Academy.
Research interests and PhD supervision
Visual Arts
Popular Culture
Feminist Approaches
Biblical Women
The New Testament
Teaching
I teach the Christianity and the Arts modules based at the National Gallery.
Expertise and public engagement
Recent public-facing work includes: Radio Broadcast – The Voice of Islam Breakfast Show 'Who is Mary for Christians?'.
MAY 2023 Public Lecture – The National Gallery 'The Art of St Francis and St Clare' with Dr Joost Joustra; APR 2023 Radio Broadcast – BBC Radio 4 'The Day When God Is Dead'
APR 2023 Newspaper – The Art Newspaper 'The resurrection of Mary Magdalene? Two new books examine the elusive biblical figure' in The Art Newspaper (Print and Online)
JAN 2023 Podcast - The RE Podcast 'The One About Religion and Art'.
NOV 2022 Public Lecture – The National Gallery 'Orazio Gentileschi, The Rest on the Flight into Egypt'; OCT 2022 Panel Discussion – The National Gallery Friday Night Lates 'Art and the Emotions: Euphoria';
AUG 2022 Podcast – The Two Cities 'Mary Magdalene in Jesus Films with Dr. Siobhán Jolley'.
Selected publications
Biblical Themes in Popular Music — FKA Twigs' MAGDALENE and the Liberating Power of Myth' in Understanding Religion and Popular Culture [2nd Ed.], eds. Elizabeth Coody, Dan W. Clanton, Jr. and Terry Clark (Abingdon, Taylor & Francis, 2023)
'Asking for it? Lessons from Mary Magdalene in a Culture of Sexual Violence' in Map or Compass – The Bible on Violence, eds. Helen Paynter and Michael Spalione (Sheffield, Sheffield Academic Press, 2022)
'Mary Magdalene: From Demons to Discipleship', The Visual Commentary on Scripture (2022) [https://thevcs.org/mary-magdalene-demons-discipleship] 'The Art of Devotion: Renaissance Altarpieces at the National Gallery', Religion, Collections and Heritage Group – Exploring Religions in Museums Guidebook.