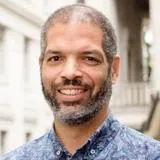 Sonny Peart
Module Leader for Business Management
Contact details
Biography
Sonny has been at King's since 2017. He holds a BA in English Literature & Language from Durham University and an MBA from London Business School, as well as a PGCE from the University of Westminster.
He has previously taught on business courses at Kingston University and Roehampton University, and is currently an Associate Lecturer at the Open University.
Before training as a teacher, Sonny worked as a Marketing Manager in the telecoms and investment banking sectors, in London and the Caribbean.
In his spare time Sonny is the co-founder and chair of Black Trail Runners, a charity that seeks to increase the participation of black people in trail running. He regularly runs ultramarathons and is a brand ambassador for ASICS. He also directs and acts in an amateur theatre company he co-founded.